Manuscript Collection # 8
Content Summary: Correspondence of the Rev. Frank Fiol, career missionary to Kanpur and Dehra Dun, India; Constitution of the Bible Presbyterian Church of Kanpur; various reports on Indian missions.
Access Restrictions: None
Collection Citation: Fiol, Frank, Papers, Box 359, Folder __: item description, PCA Historical Center, St. Louis, MO.
Finding Aid is normally located in folder number 1 of each box.
| | | |
| --- | --- | --- |
| Subject | Box | File |
| | 359 | 2 |
| Correspondence, 1936 – 1939:  Paul Woolley, IBPFM, H.M. McAllister Griffiths, Charles Woodbridge | 359 | 10 |
| Correspondence, 1940 – 1947:  J. Gordon Holdcroft, IBPFM, Carl McIntire | 359 | 9 |
| Correspondence, 1950 – 1955:  Donald MacNair, J. Oliver Buswell, IBPFM, J. Gordon Holdcroft | 359 | 8 |
| Correspondence, 1956:  Frank Dyrness, T. Stanley Soltau, John G. Crane, Kenneth Horner, Carl McIntire, R. Laird Harris, J.E. Krauss | 359 | 7 |
| Correspondence, 1957:  Donald MacNair, Carl McIntire, J. Gordon Holdcroft, J.E. Krauss, Frank Dyrness, William Mahlow, Robert Hastings | 359 | 6 |
| Correspondence, 1958:  Donald MacNair, Peter Stam, William Mahlow, Robert Rayburn | 359 | 5 |
| Correspondence, 1959 – 1961:  Carl McIntire, J. Gordon Holdcroft, William Mahlow, IBPFM | 359 | 4 |
| Correspondence, 1964 – 1975 | 359 | 3 |
| General Synod, BPC, 1945 (8th), Docket | 359 | 11 |
| Gerstner, John H., The Apostasy of the United Presbyterian Church in the United States of America," 1981 | 359 | 13 |
| Mahlow, William, India Revisited, 1964, [report] | 359 | 14 |
| Miscellaneous | 359 | 12 |
| Missionary Problems in India, [report] | 359 | 15 |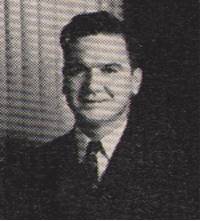 Frank Fiol
Missionary to Kanpur, India
1945 - 1999