George P. Hutchinson Papers
Manuscript Collection # 11
Content Summary: Correspondence, writings, Minutes, and various publications having to do with the Bible Presbyterian Church and the Reformed Presbyterian Church, Evangelical Synod.
Access Restrictions: None
Collection Citation: Hutchinson, George P., Papers, Box __, Folder __: item description, PCA Historical Center, St. Louis, MO.
Finding Aid is normally located in folder number 1 of each box.
| | | |
| --- | --- | --- |
| Subject | Box | File |
| | 460 | 35 |
| | 460 | 36 |
| Buswell, J. Oliver, Jr., 1955, Correspondence | 460 | 5 |
| | 460 | 41 |
| Christian Way to Conquer Communism, The, Bibles by Balloons Project of the International Council of Christian Churches (ICCC), [brochure] | 460 | 2 |
| Collingswood Bible Presbyterian Church:  Carl McIntire's 50-year Ministry:  1933 – 1983 | 460 | 4 |
| Correspondence, Miscellaneous, 1954 – 1956 | 460 | 18 |
| Correspondence, Miscellaneous, 1958, 1969 and undated | 460 | 15 |
| Correspondence, Miscellaneous, January – July, 1956 | 460 | 16 |
| Correspondence, Miscellaneous, October – December, 1956 | 460 | 17 |
| | 460 | 34 |
| Cox, Robert, 1955, Correspondence with Session of Collingswood BPC | 460 | 6 |
| | 461 | 6 |
| | 461 | 7 |
| | 460 | 37 |
| | 460 | 38 |
| | 460 | 39 |
| | 460 | 40 |
| General Synod (BPC), 1954 | 460 | 23 |
| | 461 | 4 |
| | 461 | 5 |
| Harris, R. Laird, 1956, Correspondence, 20th General Synod (BPC), Proposed Docket | 460 | 7 |
| Highland College, 1954 – 1955, Correspondence | 460 | 8 |
| | 460 | 28 |
| History Behind the Reformed Presbyterian Church, Evangelical Synod, Manuscript, Folder 1 | 460 | 26 |
| History Behind the Reformed Presbyterian Church, Evangelical Synod, Manuscript, Folder 2 | 460 | 27 |
| | 461 | 8 |
| Independent Board for Presbyterian Foreign Missions, 1933, Charter | 460 | 24 |
| Independent Board for Presbyterian Foreign Missions, 1946, Manual | 460 | 25 |
| Independent Board for Presbyterian Foreign Missions, 1955 – 1956, Correspondence | 460 | 9 |
| | 460 | 30 |
| | 460 | 29 |
| Laman, Clarence, 1956, Correspondence | 460 | 10 |
| | 461 | 2 |
| McIntire, Carl, 1954 – 1956, Correspondence | 460 | 11 |
| Miller, A.F., 1954, Correspondence | 460 | 12 |
| Miller, James, 1954, Correspondence | 460 | 13 |
| Miller, James, 1954, Correspondence with Carl McIntire | 460 | 14 |
| | 460 | 31 |
| | 461 | 3 |
| | 460 | 32 |
| | 461 | 11 |
| | 461 | 14 |
| | 461 | 12 |
| | 461 | 13 |
| R.P. Letter Exchange, 1969 [correspondence] | 460 | 19 |
| Rayburn, Robert G., 1954, Correspondence with A.F. Miller | 460 | 21 |
| Rayburn, Robert G., 1955 – 1956, Correspondence with McGregor Scott, ruling elder in the Collingswood Bible Presbyterian Church | 460 | 20 |
| | 460 | 33 |
| | 461 | 10 |
| | 461 | 9 |
| RPCES Literature Packet, Brochure | 460 | 3 |
| Schaeffer, Francis A., 1954 – 1955, Correspondence with Carl McIntire | 460 | 22 |
| | 461 | 15 |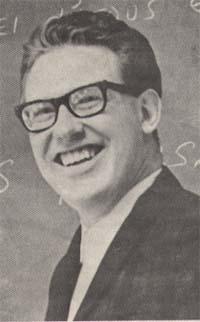 George P. Hutchinson