Reginald Heber McIlwaine Papers
Manuscript Collection # 50
Content Summary: The collection consists primarily of correspondence with James H. Ballagh and J. Wallace Moore, 1890-1931
Span Dates: 1890 - 1899, 1909 - 1931, 1998
Access Restrictions: None
Collection Citation: R. Heber McIlwaine Manuscript Collection, Box 467, PCA Historical Center, St. Louis, MO.
Biographical sketch : Reginal Heber McIlwaine was born in Kobe, Japan on 7 July 1906, one of six children in the family of PCUS missionaries William Beauregard and Harriet Meade (Jones) McIlwaine. Heber attended Davidson College and prepared for the ministry at Westminster Theological Seminary, graduating there in 1932. He was ordained by the Presbytery of Philadelphia in the PCUSA on 5 October 1932 and served from 1932-1934 as assistant pastor at the First Presbyterian church in Pittsburgh, PA, where the Rev. Clarence E. Macartney was senior pastor. In 1934 he left that post for the mission field in Japan, under the auspices of the newly formed Independent Board for Presbyterian Foreign Missions, but the political situation in Japan forced his return to the United States in 1936. Upon his return, he transferred his ministerial credentials to the Presbyterian Church of America (later, the Orthodox Presbyterian Church, from 1938ff.), in September of 1936 and as a member of that denomination's Presbytery of Philadelphia. By 1937 he had found a new field of work again with the IBPFM, working in Harbin, Manchoukuo (or, Manchuria), and he managed to minister there from 1938-1940 before the war again drove him back to the United States. Rev. McIlwaine served as stated pulpit supply for the St. Andrews OPC church in Baltimore, Maryland from 1941-1943 and served a term as a U.S. Army chaplain, from 1943-1945. In 1946, he returned to pulpit ministry, serving as stated supply for the OPC church in Aurora, Nebraska, then from 1947 to 1950, was on loan to the Board of Foreign Missions of the Presbyterian Church of Canada, and was based in Taiwan. Finally he returned to the Japan mission field under the auspices of the OPC's Committee on Foreign Missions in 1951 and ministered there until 1976. His last post was as associate pastor for the Emmanuel OPC church in Wilmington, Delaware, 1978-1980. Rev. McIlwaine entered his final rest on 15 November 1998.
Finding Aid is normally located in folder number 1 of each box.
| | | |
| --- | --- | --- |
| Subject | Box | File |
| McIlwaine, W. A., Faith as an Organism, [sermon], 1945 | 467 | 1 |
| Ballagh, James H. and Moore, J. Wallace,1890 – 1899, Correspondence [22 leaves] | 467 | 2 |
| Moore, J. Wallace, 1909 – 1925, Correspondence | 467 | 3 |
| Moore, J. Wallace, 1926 – 1928, Correspondence | 467 | 4 |
| Moore, J. Wallace,1929 – 1931, Correspondence | 467 | 5 |
| Ballagh, James H. and Moore, J. Wallace, dates unknown, Correspondence [5 leaves] | 467 | 6 |
| Executive Committee of Foreign Missions, n.d., Report to the | 467 | 7 |
| McIlwaine, R. Huber, obituary, New Horizons [OPC], 1998 | 467 | 8 |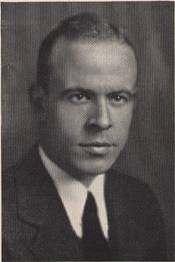 R. Heber McIlwaine
[July 7, 1906 - November 15, 1998]
IBPFM & OPC Missionary to Japan