Manuscript Collection # 23
Content Summary: Correspondence, Addy - Young; Records of Bible Presbyterian Church and its Philadelphia Area Presbytery.
Access Restrictions: None
Collection Citation: Noé, Edward T., Papers, Box __, Folder __: item description, PCA Historical Center, St. Louis, MO.
Finding Aid is normally located in folder number 1 of each box.
| | | |
| --- | --- | --- |
| Subject | Box | File |
| Addy, John E. | 127 | 1 |
| American Council of Churches, 1944 -1949 | 127 | 2 |
| Anderson, Charles W. | 127 | 3 |
| Anderson, Herbert J. | 127 | 4 |
| Arcularius, Philip | 127 | 5 |
| Armes, John G. | 127 | 6 |
| Armes, Roland K., Memorial | 127 | 7 |
| Armes, Willard O. | 127 | 8 |
| Bennett, James E. | 127 | 9 |
| Bible Presbyterian Church of Baltimore | 127 | 11 |
| Bible Presbyterian Church of Coatesville, PA | 127 | 12 |
| Bible Presbyterian Church of Collingswood vs. Harvey Cedars | 127 | 13 |
| Bible Presbyterian Church of Galena, MD | 127 | 14 |
| Bible Presbyterian Church of Neward, DE | 127 | 15 |
| Bible Presbyterian Church of Washington, D.C. | 127 | 138 |
| Blair, J. Edward | 127 | 16 |
| Blomquist, Gustave | 127 | 17 |
| Brooks, William | 127 | 18 |
| Bunzel, Claude R. | 127 | 19 |
| Buswell, J. Oliver, Jr. | 127 | 20 |
| Buswell, John W. | 127 | 21 |
| Candidates and Men Under Care, 1950 - 1951 | 127 | 22 |
| Cannon, Dan | 127 | 24 |
| Cannon, H. Richard | 127 | 25 |
| Carlberg, Major Chaplain | 127 | 23 |
| Central Bible Presbyterian Church of Philadelphia, PA | 127 | 27 |
| Chapin, Dwight C. | 127 | 28 |
| Chisholm, William H. | 127 | 29 |
| Christian Training, Inc., 1975, Board of Directors, Minutes of December 2 - 3 | 127 | 30 |
| Collins, Winslow | 127 | 31 |
| Cook, Herman W. | 127 | 32 |
| Crane, John G., Sr. | 127 | 33 |
| Cross, Thomas G. | 127 | 34 |
| Dodd, Albert B. | 127 | 35 |
| Donaldson, Laverne | 127 | 36 |
| Dorsey, John L. | 127 | 37 |
| Duval, Robert T. | 127 | 38 |
| Enlow, Barry | 127 | 39 |
| Ephemera | 127 | 144 |
| Everhart, William L. | 127 | 41 |
| Fannon, Dan | 127 | 42 |
| Faucette, William C. | 127 | 43 |
| Financial Records, 1962 - 1964 | 127 | 44 |
| Francis, William A. | 127 | 45 |
| Gilchrist, George R. | 127 | 46 |
| Glasser, Arthur F. | 127 | 47 |
| Gordon, Lynn Gray | 127 | 52 |
| Gosling, Charles | 127 | 49 |
| Grayson, Ted | 127 | 50 |
| Great Lakes Presbytery, Standing Rules | 127 | 130 |
| Griffiths, Hall McAlister | 127 | 51 |
| Hanna, James | 127 | 53 |
| Harrah, Calvin | 127 | 54 |
| Hastings, Robert | 127 | 55 |
| Heil, A.C. | 127 | 56 |
| Henry, Hayes | 127 | 57 |
| Holdcroft, J. Gordon | 127 | 58 |
| Horner, Kenneth A. | 127 | 59 |
| Jensen, Franklin T. | 127 | 60 |
| Jones, David C. | 127 | 61 |
| Kelley, Alford | 127 | 62 |
| Killen, R. Allan | 127 | 63 |
| Kim, Chin Hong | 127 | 64 |
| Koontz, John W. | 127 | 65 |
| Laird, Harold S. | 127 | 66 |
| Lambie, Thomas A. | 127 | 67 |
| Lentz, Boyd | 127 | 68 |
| Leonard, William B. | 127 | 69 |
| Correspondence, Miscellaneous, A - F | 127 | 70 |
| Correspondence, Miscellaneous, G - L | 127 | 71 |
| Correspondence, Miscellaneous, M - P | 127 | 72 |
| Correspondence, Miscellaneous, R - S | 127 | 73 |
| Correspondence, Miscellaneous, T - U | 127 | 74 |
| Correspondence, Miscellaneous, W, Y | 127 | 75 |
| MacEwen, Frederick | 127 | 78 |
| MacNair, Donald J. | 127 | 76 |
| Mahlow, William A. | 127 | 81 |
| Manross, Lawrence N. | 127 | 82 |
| Marshall, Samuel | 127 | 83 |
| McIntire, Carl, Statement on "Young Men's Revolt" | 127 | 79 |
| McMahan, W. Thomas | 127 | 80 |
| McRae, Allan A. | 127 | 77 |
| Meitling, Werner | 127 | 85 |
| Miller, Melvin | 127 | 86 |
| Ministers in Good Standing, 1946 | 127 | 87 |
| Misicka, Joseph | 127 | 88 |
| Monroe, Wayne | 127 | 89 |
| Murray, Alexander A., Memorial Resolution | 127 | 90 |
| Murray, Jack W. | 127 | 91 |
| National Missions, 1945 - 1963 | 127 | 92 |
| Nichols, Gordon | 127 | 48 |
| Noé, Edward T. | 127 | 93 |
| Norris, John M. | 127 | 94 |
| Northeast Bible Presbyterian Church | 127 | 95 |
| Oldham, Albert | 127 | 97 |
| Palmer, John L. | 127 | 99 |
| Paul, William W. | 127 | 100 |
| Philadelphia Presbytery, 1961 - 1963, Notices to | 127 | 84 |
| Philadelphia Presbytery, 1944 - 1964, Overtures to Synod | 127 | 98 |
| Philadelphia Presbytery, Standing Rules | 127 | 129 |
| Philadelphia Presbytery, 1963, Synod Report to | 127 | 132 |
| Phillips, Preson | 127 | 101 |
| Piercey, Lorne f. | 127 | 102 |
| Pinckney, Earle | 127 | 103 |
| Plan of Union, Bible Presbyterian Church and Reformed Presbyterian Church, Evangelical Synod | 127 | 10 |
| Potts, W.N. | 127 | 104 |
| Presbyterial, 1962 | 127 | 105 |
| Presbyterian Church in the U.S.A., 1931, General Assembly Actions | 127 | 107 |
| Presbyterian Church in the U.S.A., 1912, Souvenir Booklet | 127 | 106 |
| Presbytery Committee Reports, 1955, 1960, 1963 | 127 | 108 |
| Presbytery Minutes, 1975 and 1976, Midwest, New Jersey, Northwest and Pacific | 127 | 109 |
| Pryce, George | 127 | 110 |
| Pund, Edwin G. | 127 | 111 |
| Rayburn, Robert G. | 127 | 112 |
| Reformed Bible Institute | 127 | 113 |
| Ricker, Hal | 127 | 114 |
| Russell, R.Y. | 127 | 115 |
| Sanderson, John W. | 127 | 116 |
| Saye, Sam W. | 127 | 117 |
| Schaeffer, Francis A. | 127 | 118 |
| Schultz, Tom | 127 | 119 |
| Scott, John David | 127 | 120 |
| Shelor, Archie | 127 | 121 |
| Shepperson, Flournoy | 127 | 122 |
| Slaght, Arthur G. | 127 | 123 |
| Smick, Frank J., Jr. | 127 | 124 |
| Smith, William B. | 127 | 125 |
| Soltau, Addison | 127 | 126 |
| Stam, Peter, Jr. | 127 | 127 |
| Stated Clerks of Presbytery, 1949 - 1963, Notices to | 127 | 96 |
| Statistical Reports to Synod, 1950 and 1951 | 127 | 128 |
| Stevens, Percey E. | 127 | 131 |
| Stigers, Harold G. | 127 | 133 |
| Swayne, Robert H. | 127 | 134 |
| Synod Actions, 1950 - 1964 | 127 | 135 |
| Toms, Selwyn | 127 | 136 |
| Wallis, Wilber B. | 127 | 137 |
| Welbon, Henry Garner | 127 | 139 |
| Williamson, Harwell B. | 127 | 141 |
| Wolf, Kenneth | 127 | 142 |
| Young, Douglas G. | 127 | 143 |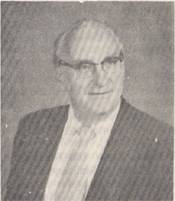 Edward T. Noé
Principal of the Cono Christian School and Associate Pastor of the Bible Presbyterian Church, Walker, IA [Photo circa 1974]