Pearson Mission to the Cherokees
Content Summary: Correspondencem, financial records, and translation works in the Cherokee language, from the Pearson Mission to the Cherokees, a mission work named in honor of the Rev. Manford A. Pearson.
Span Dates: 1853, 1920, 1924, 1954 - 1966
Access Restrictions: None
Collection Citation: Pearson Mission to the Cherokees [Box 453], PCA Historical Center, St. Louis, MO.
Memorial Note for the Rev. M.A. Pearson
The Rev. Dr. Carl McIntire of the New Jersey Presbytery gave the memorial for Manford A. Pearson.
Mr. Pearson died suddenly of a heart attack while a guest at the Bible Presbyterian Home in Delanco, N.J.
His funeral was held in the tablernacle of the Bible Presbyterian Church of Collingswood, N.J. Dr. McIntire stated that he had known Mr. Pearson all the years of Synod. Mr. Pearson often stated that he had belonged to Synod before the formation of our Synod. He was a real scholar. He had done a great work of translation in the Cherokee Old and New Testament. From 1911 on he had worked among the Cherokee Indians. He was stalwart for the faith. Mrs. Pearson showed Dr. McIntire Mr. Pearson's prayer list which he kept in an old shoe box. It contained a detailed card filing system of B.P. Ministers, Independent Board missionaries, regional officers of the I.C.C.C. and many others connected with the whole sphere of our work with notes and clippings concerning each. He had a great burden of prayer for our movement.
Synod stood for a season of prayer led by the Rev. Charles E. Richter.

[excerpted from the Minutes of the Eighteenth General Synod of the Bible Presbyterian Church, p. 1]:
Finding Aid is normally located in folder number 1 of each box.
| | | |
| --- | --- | --- |
| Subject | Box | File |
| Bible Dictionary, Cherokee to English, Folder 1 | 453 | 3 |
| Bible Dictionary, Cherokee to English, Folder 2 | 453 | 4 |
| Bible Dictionary, Cherokee to English, Folder 3 | 453 | 5 |
| Bible Dictionary, Cherokee to English, Gospel of John to Acts 24 | 453 | 6 |
| Bible Dictionary, English to Cherokee, Folder 1 | 453 | 7 |
| Bible Dictionary, English to Cherokee, Folder 2 | 453 | 8 |
| Bible Dictionary, English to Cherokee, Folder 3 | 453 | 9 |
| Bible Study Course, Folder 1, Course of Study and Attendance Records | 453 | 10 |
| Bible Study Course, Folder 2, English Text, Section A, Bible Doctrines | 453 | 11 |
| Bible Study Course, Folder 3, English Text, Section C, Life of Paul | 453 | 12 |
| Bible Study Course, Folder 4, English Text, Section X, The Ministry of the Spirit | 453 | 13 |
| Bible Study Course, Folder 5, English Text, Section Y, Prevailing Prayer | 453 | 14 |
| Bible Study Course, Folder 6, Cherokee Text, Section C | 453 | 15 |
| Board of Indian Commissioners, Report, 1920 | 453 | 53 |
| Board of Indian Commissioners, Report, 1924 | 453 | 55 |
| Building Plans, Trade School | 453 | 16 |
| Cherokee Information | 453 | 17 |
| Children for Christ, Lessons | 453 | 18 |
| Children for Christ, Literature | 453 | 19 |
| Commissioner of Indian Affairs, Report, 1920 | 453 | 52 |
| Commissioner of Indian Affairs, Report, 1924 | 453 | 54 |
| Constitution and By-Laws, Cherokee Industries, Inc. | 453 | 20 |
| Correspondence, 1960 – 1961 | 453 | 25 |
| Correspondence, 1962, January – May | 453 | 24 |
| Correspondence, 1962, June – December | 453 | 23 |
| Correspondence, 1963 | 453 | 22 |
| Correspondence, 1964 – 1966 | 453 | 21 |
| Correspondence, National Presbyterian Missions, 1965 | 453 | 26 |
| Correspondence, Support Letters, 1960 - 1963 | 453 | 27 |
| Correspondence, Undated | 453 | 28 |
| Covenant College | 453 | 29 |
| East Peavine Presbyterian Church, Sunday School, 1961 – 1962 | 453 | 45 |
| East Peavine Presbyterian Church, Sunday School, May – September 1963 | 453 | 44 |
| East Peavine Presbyterian Church, Sunday School, October 1963 – August 1964 | 453 | 43 |
| East Peavine Presbyterian Church, Sunday School, October 1964 – August 1965 | 453 | 42 |
| Exodus, translated into the Cherokee language, 1853 | 453 | 49 |
| Farming | 453 | 30 |
| Financial Reports, 1958 – 1959 | 453 | 34 |
| Financial Reports, 1960 – 1961 | 453 | 33 |
| Financial Reports, 1962 – 1963 | 453 | 32 |
| Financial Reports, 1964 – 1965 | 453 | 31 |
| General Fund Ledger, 1955 – 1957 | 453 | 50 |
| Henderson and Branch, Sunday School | 453 | 46 |
| Henry, Hayes and family, photograph | 453 | 48 |
| Henry, Hayes, "The Challenge of the Cherokee Field," National Missions Reporter, September 1955, "Operations sustenance," Bible Presbyterian Reporter, April 1957 | 453 | 2 |
| Ledger, 1954 – 1959 | 453 | 51 |
| Matthews, J.B., "Communism in Our Churches," an address delivered at the Collingswood Church | 453 | 38 |
| Miscellaneous | 453 | 35 |
| Patent Application, "The Helpful Henry Walker" | 453 | 36 |
| Pearson Mission, Report on the Work of the | 453 | 39 |
| Presbytery of the Southwest | 453 | 37 |
| Schaeffer, Francis A., Two Chairs, or, Living in the Supernatural Now, no date, incomplete | 453 | 47 |
| Summer Camp, 1961 | 453 | 41 |
| Summer Camp, 1962 | 453 | 40 |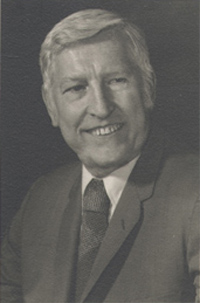 Hayes Henry, Director of the Pearson Mission from 1955-1968 and 1971-1979