World Presbyterian Missions [RPCES]
Box# es 107 and 411 through 421
Content Summary: Records of the foreign missions arm of the Reformed Presbyterian Church, Evangelical Synod, including missionary correspondence and prayer letters
Access Restrictions: None
Collection Citation: World Presbyterian Missions (RPCES), Box __, Folder __: item description, PCA Historical Center, St. Louis, MO.
Finding Aid is normally located in folder number 1 of each box.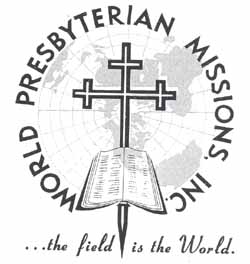 The above logo was presented for consideration in June of 1964. The seal was designed by Mrs. William Lothers, and bore some relationship to the seals of Covenant College and the Evangelical Presbyterian Foundation. The symbolism of an open Bible signifies the offer of God's truth to the entire world; in the background a small sword, called a crosslet, stands for the defense of the faith, once for all delivered to the saints, and the three crosses on the handle of the sword are the offer of life and death, symbolic of Christ's death on the cross, of the one thief who rejected Him and of the other who cried out to Him and to whom He made the promise, 'Today thou shalt be with me in paradise.'
A simplified version of the logo, using only the crosslet itself, began to be used with the issue of the December 1967 WPM Newsletter.