PCA HISTORICAL CENTER
Archives and Manuscript Repository for the Continuing Presbyterian Church

Manuscript Collections :

Synthetic Collections :
---
Archives Journal — What We're Doing This Week

Tuesday, 16 January 2017
The PCA Historical Center has acquired a special scanner for scanning fragile books. The only problem is that it comes to us as a kit, and I'm working this week to get it put together. For more on this scanner (called "the Archivist's Quill") see this web page or this video. The new scanner will be an adjunct to our other scanners (Canon, Epson, & Fujitsu). Meanwhile, Kent will be working this week to compile a database on patron requests.

Tuesday, 14 November 2017
And as we recently hosted a tour for visitors from the Free Church of Scotland (Continuing), here for "Throwback Tuesday" is a photograph from among our collections, taken in 1860, of the Moderators and Ex-Moderators of the Free Church of Scotland Assembly. This is part of a small collection that we have pertaining to the Free Church denomination. Click on either image to view a larger version:—

| | |
| --- | --- |
| | |
Pictured, as per the key published on the reverse, with their year of service as moderator:
1848 - Dr. Patrick Clason, Buccleuch Parish Church, Edinburgh [1789-1867]
1850 - Dr. Nathaniel Paterson, Glasgow [3 July 1787 - 25 April 1871]
1853 - Dr. John Smith, Glasgow [? - ?]
1854 - Dr. James Grierson, Errol [? - 5 May 1875]
1855 - Dr. James Henderson, Glasgow [1797 - 1874]
1857 - Dr. James Julius Wood, Dumfries [1800 - 1877]
1858 - Dr. Alexander Beith, Stirling [13 January 1799 - 11 May 1891]
1859 - Dr. William Cunningham, Edinburgh [2 October 1805 – 14 December 1861]
1860 - Dr. Robert Buchanan, Glasgow [1802 - 1875], moderator in 1860
For that date range 1848-1860, three former moderators were not present for inclusion in the photograph, namely Drs. Mackintosh Mackay [1793-1873], of Dunoon (1849), Alexander Duff [15 April 1806 – 12 February 1878], Calcutta (1851) and Angus Makellar, who had died the year previous to when the photograph was taken [22 June 1780–10 May 1859], Edinburgh (1852).
Friday, 10 November 2017
The United States Presbytery of the Free Church of Scotland (Continuing) recently held their Fall Colloquium, and I was pleased to be able to attend their Thursday morning sessions and also hosted a tour of the PCA Historical Center on Friday afternoon.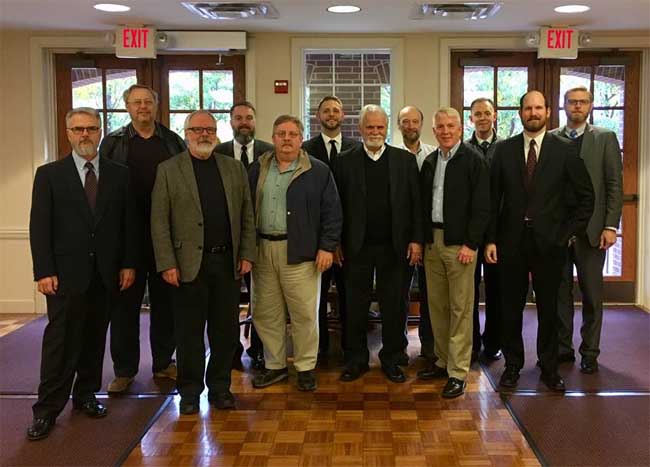 This year's Colloquium had attendees from the Presbyterian Reformed Church (PRC); Orthodox Presbyterian Church (OPC), Presbyterian Church in America (PCA) and Free Church of Scotland, Continuing (FCoS(C)). Pictured above in the front row, L to R, Michael Erickson (PRC), Glenn Ferrell (OPC), Charles H. Greenewald, Warren Gardner, Randy Taylor, and Blake Law (PRC); Back row, L to R, Jim Moline, Robert McCurley, John King, Wayne Sparkman (PCA), Jonathan Mattull, and Christopher Reeder. Not pictured, Brian Myers. Those without parenthetical identification of denomination are all FCoS(C).

Tuesday, 17 October 2017
We've ramped up our progress on reboxing the collection. Kent is now working on Range 6, with less than 100 of the new boxes to still put in place. At that time we'll place a final order for more of the coroplast boxes and those will complete the transition. Meanwhile, I've begun compiling a records survey of our collections in an Excel file, with ten fields: Box number, shelf location, accession number, call number, box size, collection name, description, span dates, and notes. Upon completion of the records survey, we will also, over time, add links to the finding aids for each box, probably in PDF format.
| | |
| --- | --- |
| | |
| A mix of old boxes and newer | New boxes in place |
Tuesday, 5 September 2017
Our new assistant Kent Woodrow continues to work on reboxing, having now completed work on Range 2, moving on to Range 3, while my time continues to be spent in scanninng Presbytery records, as requested by several Presbytery members.

Friday, 25 August 2017
Kent's off today. I spent a portion of the day reboxing some of the Allan A. MacRae collection on Range 7.
In other news, I was notified earlier this week that I had passed the re-certification exam for standing as a Certified Archivist.

Thursday, 24 August 2017
Kent continued with reboxing today, moving collections out of the 30+ year old cardboard records storage boxes and into the new coroplast boxes from Hollinger-Metal Edge. He has now moved on to working on Range 2, with Range 1 having been completed yesterday. The work ahead of Kent looks like this:
Range

Old boxes

Work Completed on

2

23

09/05/17

3

48

10/06/17

4

59

09/22/17

5

50

10/16/17

6

48

7

[17]

08/25/17

8

17

9

21

Total

24-3 remaining to rebox
On Range 7 we will use the older translucent white coroplast boxes, so as to match what is already in place for the MacRae Collection.
My own work today has included scanning Presbytery minutes and then a journal article for a different patron. A separate request came in for the location of correspondence among the Papers of Dr. Allan A. MacRae, and while that collection is not yet fully arranged and described, I was able to locate at least some of the requested letters.Accession of accruals to several existing collections has consumed the remainder of the day.