Collection Update:
The Historical Center received church history accounts from over 130 PCA churches in 1999. Nine churches published book or booklet accounts of their history and most of these were in observation of an anniversary.
Added to the Collection this year were the papers of William Chisholm, RPCES medical missionary to Korea. The Center is coming to possess a very strong collection of papers and records in the area of evangelical Presbyterian missions and these papers of Dr. Chisholm are a welcome addition to that portion of our collection.
Earlier in the year we also received a notable donation from Mrs. James W. Lipscomb, of Ruston, LA, who donated audio tapes from a 1972 congregational meeting of a PCUS church covering discussion of whether or not to leave the PCUS and join the PCA. The Historical Center has many tapes from the formative years of the PCA, but these tapes provide a unique insight into the serious decisions that faced many congregations.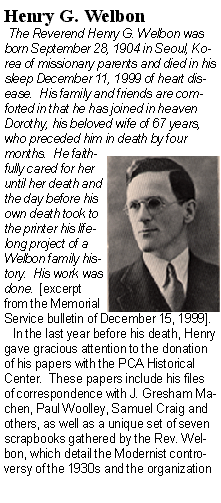 of the Orthodox Presbyterian Church and the Bible Presbyterian Synod. Those who may have additional correspondence or other items connected with Rev. Welbon are encouraged to consider their donation to the PCA Historical Center.
GA Display for 2000:
Thanks to a donation of photos and other memorabilia from Mrs. Annie Fredricks of Louisiana, plans are underway to focus our GA display this year on the history of Presbyterian missions in Dehra Dun, India.
Through the J & R of 1982, the PCA shares in the spiritual heritage of work in that region that stretches back to 1834, when the RPC,GS first sent J.R. Campbell and later David Herron and others. In this century, that same work has continued through the faithful labors of the Taylor, Strom, and Fiol families, along with many others. If you have items that might be of use in putting this display together, your help would be greatly appreciated and we would ask that you please contact us.